Stage box
When I was playing with the idea of setting up a small home studio I had originally planned to have a separate control and recording room. A multicore cable with two connector boxes at either end is a good way to connect all signals from one room to the other. To keep cost down I chose for a piece of quad pair cable and made the two boxes to have 8 1/4" jacks each. The way it's wired, I have a choice of either TRS balanced, TRS stereo or double mono connections for each of the 4 cable pairs. This is what it looks like: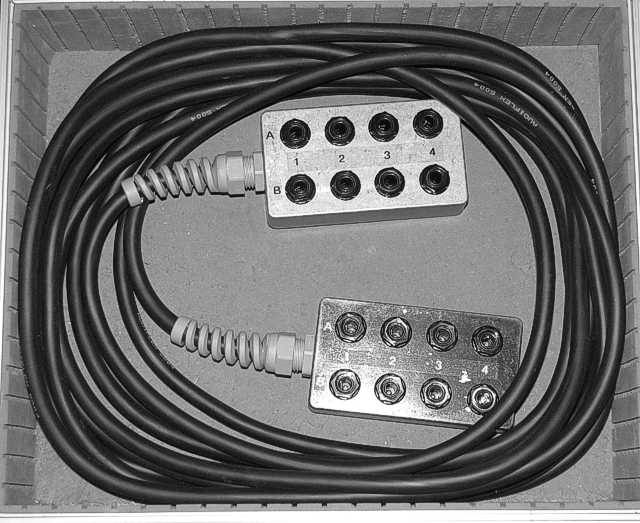 If you put a TRS 1/4" jack into the A socket of either channel, you have a balanced or stereo connection and you can't use the B socket. As soon as there's a jack in the B socket, the corresponding A socket is switched over to unbalanced or mono. Wiring the darn thing was close to impossible, because the 2 aluminium boxes I used were just barely large enough for the sockets and cable entry: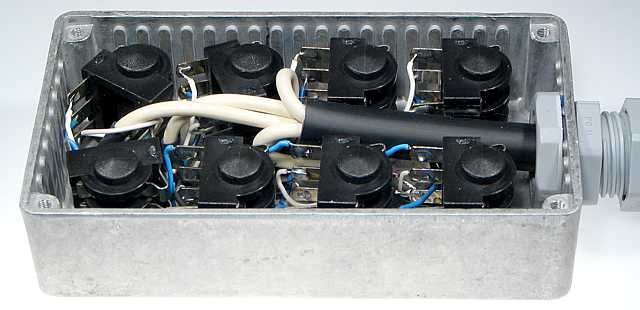 It's working like a dream, though, and I can hook up balanced mics, stereo headphones or (bass)guitars, all through one single cable.
Comments
© Joris van den Heuvel, Fuzzcraft.com