Lowepro Passport Sling camera bag review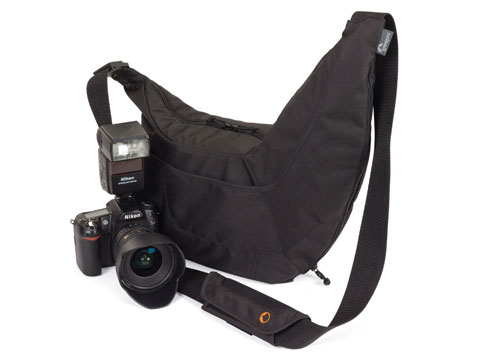 Quoting Lowepro: The Camera Shoulder Bag Redefined - Okay, this is an unexpected kind of camera bag, but we think you'll like its unique form and inventive functions. The Passport Sling gives you freedom for your every move, protection for your DSLR and lots of space for your personal items. Unzip the front to reveal an expansion compartment that adds about 30% more storage space - enough room to accommodate things like a light jacket, lunch, cool souvenir or farmers market find.
If you're the "too long, didn't read"-type of person, you can safely skip the next three paragraphs
I've said it many times before: I'm picky when it comes to carrying photographic equipment, and that includes bags. It's usually women that obsess about bags, but male photographers are allowed this character flaw as well. I used to have 20" long hair (and mostly wore it untied), and couldn't comfortably carry an across-the-chest shoulder bag because of that. Imagine swinging a shoulder bag around your body 20 times without getting the strap tangled with your hair. It gets old quickly, believe me. A backpack also does't sit well with the way I take pictures, not to mention it has TWO straps that get tangled with long hair. So I made due with a belt pack, a Lowepro Inverse 100, for a few years. It's one of the smallest belt bags that takes a gripped DSLR. It doesn't look very hip, but I was never into that, so it's OK.
So then I got older and got rid of the hair (now wearing a very short buzz cut; how's that for a change?). Now I could get a shoulder bag again. On holidays, and on work days, I need to carry more stuf than just a camera. Think lunch, softdrink bottle, smartphone, handy stuff, dog biscuits, the works. For all that (especially a tall 1.5 liter bottle) to fit in -for instance- a messenger bag, it would have to be a pretty big bag that would end up being only half filled and flopping around. Also, for work it will have to fit in the space between the seats in my employer's Mercedes Vito vans. Options are thus limited.
I looked at some brands of tactical modular bags, like the army and law enforcement officers use, but found them prohibitly expensive. Great kit, but a basic bag and some molle gear quickly adds up to €300. I'd much rather buy a lens for that money. So I went through the popular lens bag brands' catalogs. Tamrac, Kata, Crumpler, Think Tank, and of course Lowepro. Most bags in those catalogs are camera bags only, and, frankly, look very much like camera bags, that seem to say out loud: "I'm full of expensive equipment! Steal me!". If you get my drift.
About the bag
The Lowepro Passport Sling, introduced in 2010 (and now on its second edition), doesn't look like a camera bag, but has about half of its internal space dedicated to camera gear and the other part is more suited for everyday, less fragile items. You could, of course, also carry photo gear in there, but you'd need something to provide a shock buffer. A separate camera insert, for instance (plenty on Ebay). Or the cases that come standard with most Sigma lenses. I think I have five of those. The other way around is also possible, of course: removing the provided camera insert and use the bag as any other shoulder bag. What's so special about this bag is that it has an expansion zipper; unzip it to increase the bag's internal space considerably by about one third.
The camera insert is meant to carry a small/medium SLR camera with a medium size lens attached, plus a small prime or flash. That's it. However, it also takes a mirrorless compact (like my Sony NEX-5) with a large lens attached (mount adapter and ultrawide zoom), and a second large lens (18-200 zoom) or two small lenses (short primes). At times I've had with me the NEX-5, A-mount adapter, Sigma 10-20 mm ultrawide zoom, Samyang 8 mm fish-eye, Minolta 135 mm f/2.8, and Sigma 19 mm f/2.8 in it's own case in the outer front compartment. This means I had the expandable compartment still available for lunch and a 1-liter bottle. For work, I have the NEX-5 and Sigma 19mm in one half on the camera case, lunch in the other half, and soft drink bottle in the zipped up front. Small personal items, wallet and smartphone are in the inner and outer smaller pockets. Last, but not least, you can create an extra pocket by attaching the camera case an inch or two away from where it's supposed to be. I keep some cables and spare batteries there, but it would be perfect for a flash unit. This is one versatile bag! However, I have a few minor niggles about the Passport Sling:
First of all: it's not a sling bag! Why they chose this name, I don't know. It's a shoulder bag. Period. A sling bag (I own two of those) is worn high on the back like a backpack, and swings to the front without the need to take it off. The Passport Sling does not ride on your back, and any shoulder bag can be swung to the front.
The zipper for the expansion pocket does not have a locking runner, so when zipped down and with some stuff in the bag, it unzips about 2-3 inches.
The side pockets don't close, and aren't fully stitched, so small stuff eventually ends up in the middle outer pocket.
There's no place to put paperwork, not even A5 size, you'd have to use a folder of some sort.
Sometimes the top flaps get in the way when inserting items.
Passport Sling II
While I was writing this review, Lowepro updated the design. The newer edition comes with a more versatile camera insert, and comes in three two-tone colour options. Other than that, both versions are identical. So it's a matter of taste, really. Luckily they still carry the original version reviewed here.
Conclusion
If you're into inconspicuous camera bags, don't need to carry a 5 piece SLR kit, and want room for daily items that don't need a shock buffer, your choices are limited. The Lowepro Passport Sling delivers on its promises. It takes a lot of stuff including a large bottle, and, especially if you're a mirrorless user, a decent 3-4 lens camera kit. The interior is flexible, expandable and can be complemented by a separately purchased camera insert, so you actually can take your 5 piece SLR kit, even with a huge tele lens.
Comments
© Joris van den Heuvel, Fuzzcraft.com