Konica Minolta Dynax/Maxxum 5D review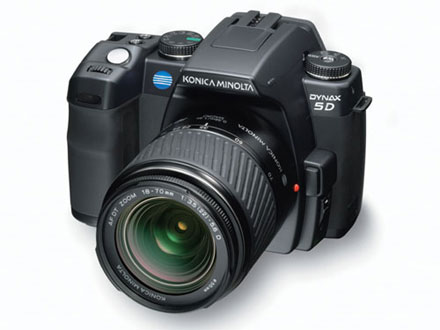 Source: Steve's digicams
I bought this camera in April 2006. At that time, the camera was out of production and Minolta (I will refer to Konica Minolta as "Minolta") was in the process of signing over their camera department to Sony, who have released their "Alpha 100" in the mean time. Minolta clearly couldn't keep up with the big boys Canon and Nikon in this digital age, which I find extremely unfortunate, because Minolta used to be one of the most innovative camera makes. But by the time they were ready to release the Dynax/Maxxum 7D and later the 5D, they had already lost most of the their market share. Enthusiast and pro photographers had massively converted to digital and there were all but 2 choices: Canon or Nikon. And once you've picked a specific brand and its specific lens mount, it's hard to change to another.
Review
Review section unfolds below:

I will not be the umpteenth guy to review this camera body. For reviews of the Dynax/Maxxum 5D/7D, go to one of the links below. The reason I have links to both the 5D and 7D is because they are very similar. Image quality is identical. The main differences are:
Size and weight: the 7D is considerably larger and a bit heavier, because it needs the room for its higher number of controls and the body is made of metal
Controls: the 7D has more dedicated dials and buttons
Flash sync: the 7D has a flash sync cable socket
Screen resolution: the 5D has 115,000 pixels, the 7D has 207,000. Screen size is the same 2.5"
Buffer size: the 7D can shoot more images in continuous mode before the speed drops
Vertical grip: there's a vertical grip available for the 7D, whereas the 5D doesn't have that option
Screen protector: the 7D is capable of attaching a screen protector
Power requirements: the 7D is somewhat more power hungry
Price: the 7D costs about 50% more
Links to reviews:
Motivation
Why did I pick the Minolta Dynax 5D? First: the stabilized CCD. Coming from a compact camera with a stabilized lens, I got a bit spoiled, and I really didn't want to let go of the stabilizer. Second: the bright viewfinder. Third: the very direct user interface. Although not as good as the 7D's user interface, most settings can be accessed by one keypress. ISO and drive mode have dedicated buttons, white balance has a dedicated dial. Things like these can only be found on professional camera bodies costing 5 times as much. Fourth: Minolta has a good lens line-up.
Another small consideration was the fact that I don't like big name brands and their million dollar ads. Simple as that. With Canon or Nikon, I can't help but think I got myself seduced by marketing people rather than a good product. Of course I considered the Canon 350D (Rebel XT), my brother owns one - with an IS USM lens, and I could've easily gone see him to try it out for a few hours. I did handle it briefly. I don't like its user interface, it doesn't have spot metering, and lacks in-body stabilisation. A good user interface lets you operate a device within two minutes. Period. The Minolta does that. Any respectable SLR has spot metering. The Minolta has it. Smart camera designers use CCD stabilization, so you don't have to buy a new stabilizer for every lens you want stabilized. What's more, Canon simply doesn't make an IS version of the most used lens on the planet: 50 mm. They don't do affordable IS primes either.
Like I mentioned above, Minolta stepped out of the camera business, and Sony took over and introduced the α100. The Dynax (Maxxum) 5D is probably going to serve me for a long time. Should it break or should I feel the need to upgrade, I sincerely hope, by then, Sony will have come up with an Alpha 200, resembling a hypothetical Minolta Dynax (Maxxum) 8D or 9D. And let's hope it's a contender to, say, the Canon 5D or the Nikon D2X.
UPDATE (January 2008): It seems Sony is serious about this. In the mean time they've released the α700 and α200, and announced the α300 and α350. Seems I won't have to worry about lack of support for my lens collection. They probably have the α900 on the drawing board right now!
UPDATE (September 2008): I was right! The Sony Alpha 900 pro level full frame DSLR was just released. Stabilized full frame CCD, 5 fps, 24 million pixels, 19 autofocus points and a VGA size TFT.
UPDATE (February 2009): I took the jump to the Alpha 700.
Power consumption
This be for tech nerds only, unfolds below:

Just like I did with my Canon S1IS, I performed a power consumption test. It might come in handy to know how power hungry the LCD backlight, anti-shake, focus etc. really are, and whether I should worry about leaving everything switched on like I've been doing. In order to compare directly to the camera's battery, I set my lab power supply to 7.4 volts, instead of 6 volts as marked on the camera body. Several forum members of Dyxum.com have been running their 5Ds and 7Ds at 7.4 volts without trouble, so I felt safe to do so as well. These are not highly accurate measurements, because my current meter isn't the fastest. Here are my findings:
Standby power = 180 mA
LCD on = 145 mA
LCD on but blanked = 100 mA
LCD brightness adjustment = no difference
Viewfinder backlight on = 5 mA
Shutter halfpressed = 25 mA
Flash charging (2 s) = 1200 mA (apx)
Shutter open = 200 mA
Focus motor running = 300 mA (apx)
Anti-shake on (during shutter open) = 550mA
Auto power off = 0 mA
Conclusions:
Letting the camera switch off the LCD automatically is going to make a big difference, you'll gain 45% run time
Switching off the LCD manually (using the display button or the eyepiece sensor) will only blank it, and not turn it off completely, wasting 36% power until the "LCD backlight" timer expires
Flash consumes lots of juice, but only in short bursts
Anti-shake for long exposures seriously drains the battery
Comments
© Joris van den Heuvel, Fuzzcraft.com