Canon Powershot S1IS review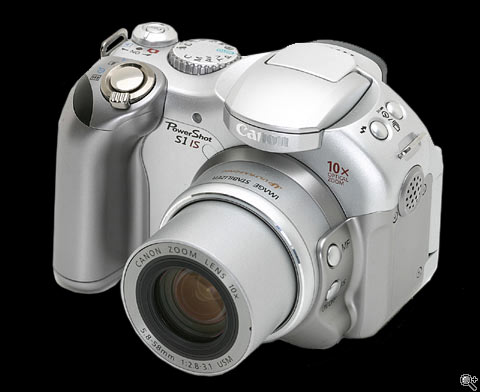 Source: DPreview.com
On the 25th of June, 2007, at 19.55 hours, at an Amon Amarth concert at the Graspop Metal Meeting festival in Dessel, Belgium, my trusty little camera took its last shot. The counter stood fierce at 6676 shots. The poor thing had been acting up for a few weeks, but now it died completely. Rest in piece

.
As a boy I used to toy around with my parents' two mechanical SLR photocameras. I did all kinds of special effects by long exposure, double exposure, triggered exposure or using adaptor rings to get macro shots. And of course, any combination of those. When I went to live on my own, I no longer had access to those cameras. I bought an immensely expensive digital camera, a Fujifilm DX-10, but at that time, digital consumer cameras were nowhere close to the quality we are used to today. With the Fujifilm's very limited possibilities (less than 1 MP, choice of 2 different f-stops only, fixed focus, no zoom) I was unable to do anything else than use the camera for its intended purpose: point and shoot. Which was a huge letdown, considering the cost of the thing.
In January, 2005 I bought a Canon Powershot S1IS. Soon I found out there's lots of other people who own one, and are just as enthousiastic about it as I am. Using the dpreview.com forum as a reference, I found out all sorts of tips and tricks to make better use of it and to overcome some of its smaller and bigger shortcomings. I also did an extensive power consumption test to determine how to maximize battery life. This is the review I posted on dpreview.com:
Review
Opinion
I know this camera will soon be discontinued, but even so, I just wanted to write a small review. After having spent 2 months with this fun little camera, it's safe to say that I'm qualified to give my opinion, and frankly, I'm amazed. The S1IS has its drawbacks, that's for sure, but man, is this camera versatile and fun! This point-and-shoot on steroids resides on the low edge of the prosumer range, the sensor resolution being the biggest contender to this. But I'm glad Canon didn't follow the "more pixels is better" hype with this one. The large zoom (10x) and image stabilizer (IS) more than make up for the low 3.2 MP pixel count, from a usability point-of-view. The mode dial range has everything one could ask for, from auto scene settings - my girlfriend can't be bothered with all the gizmos - to increasingly manual operation, down to completely manual - experimenters' heaven. But I think it all boils down to what you think is important in a camera.
The main drawback is the autofocus, or actually lack thereof. When zoomed in past 4-5x and in low light conditions, autofocus simply fails 2 out of 3 times. But then again, you can't expect too much in this department from a 10x zoom camera this small. With low zoom settings there's always hyperfocal, which occurs at 3m/10ft for this camera. But for higher zoom you'll have to use manual focus.
A few comments on the silent zoom. Canon used an ultrasonic motor for this task. The technology behind USM is amazing, and it's nice to not have to listen to the cheesy, cheap-sounding, head-turning whine normally associated with small zoom cameras. But for me that's it. Good filming practise dictates that you should never zoom during filming, unless used as an effect.
Summary
Main advantages:
versatility: 10x zoom, auto/manual operation, flip lcd, movie clips, the works
small size: although not really pocketable, you'r not lugging either
good optics: not only does the 38-380 mm(eq) lens start at f/2.8, it also hardly gets slower towards the long end, but the combination with IS makes this lens almost incredible.
batteries: world standard AAs, NiMHs cost next to nothing
memory: CF is small, cheap and fast. I really don't get why cards have to be smaller than CF
and all of this at incredibly low cost: paid €345 incl. VAT
Drawbacks (in order of annoyingness):
slow focus in low light, or no focus at all, AF illuminator would be beneficial
noise, noise, noise
slow startup
soft at wide angle (38 mm)
loose lens cap is nothing short of a design flaw
focusing manually is clumsy, either reacts too slow or too fast
very noticable purple fringing at higher zoom settings
focus hunting in movie mode when you can't use AF lock
small lcd
Other minor points:
screen has a very limited angle of view, not even remotely as good as for example my iPAQ
omnidirectional button is positioned awkwardly for my large hands, and feels cheap
red-eye reduction light should've doubled as active AF illumination source
speed of the user interface could benefit from a jog/click wheel
no USB mass storage compliance
no battery level indication
no built-in charger
what's up with the goofy IS screen symbol?
Problems
None so far.
Power consumption
I made a cable to hook up my S1 to a laboratory power supply, in order to measure current draw. I set the power supply to 7.4 volts, as per Canon specifications. Here are my findings:
Play, lens retracted: 190 mA
Play, lens extended: 270 mA
Record, standby: 400 mA
Record, auto power saving: 205 mA
Record, flash charging: 950 mA during apx. 3 seconds
Record, shutter half pressed, during AE/focus adjustment: 470 mA
Record, zooming: 620 mA
Notes:
Using the EVF instead of the LCD saves 10 mA
Image stabilisation on/off: no difference
Continuous AF on/off: 50 mA during focus shift only
Fast or slow zooming: no difference
Read/write activity to CF: +70 mA


The flash circuitry tends to only top-off after every shot, taking considerably less than 3 seconds
Oddly enough, pointing face down or up saves 20 mA in record mode, regardless of IS setting
General notes:
If I would've used batteries, the current readings would have been higher. This is because most modern day equipment works with high efficiency switching voltage regulators, internally. These are actually constant power devices, therefor current will increase as voltage drops. However, comparisons still hold their value.
The camera would power up from as low at 5.5 volts, and work fine at 5.0 volts. At 5.0 volts, the camera fails to power up, however. As expected, current readings rose with a lower supply voltage. Current in play mode (lens retracted) measures 275 mA.
I dare not go higher than 7.4 volts. But, given the fact that there is obviously a switching regulator in the camera, there is a good chance all will work fine up to 10 volts, or even much higher, but what would be the point in that?
So how to maximize battery runtime?
When playing back, retract the lens (by sliding to "play" twice)
EVF or LCD hardly makes a difference, choose whichever you like
Flash consumes lots of juice
You don't save batteries by turning off IS and continuous AF
Minimize zooming
Auto power saving doesn't exactly save a lot of energy, but it's better than switching to play
Tweaks
After tweaking the hell out of every possible setting on the camera, I concluded the following:
Auto program and scene settings are completely useless. I use A and M modes exclusively for quality shots, P mode for snapshots
To avoid softness in wide angle shots, I zoom in a tiny bit. It seems to make a difference
To avoid having to wait for power up, I always keep the camera switched on whenever I'm holding it. I always take a spare set of batteries with me
Noise is a problem, even at ISO 50. I use ISO 50 exclusively, except when there's really no other way to get reasonable exposure. ISO 400 is totally useless.
Most consumer cameras oversharpen. Sharpening in-camera doesn't do any image much good. I keep it at LOW
On-camera flash (on any camera) is useless without a diffuser. A tripod combined with the 2 seconds delay and a slow shutter is always the better option, unless your subjects are moving.
Comments
© Joris van den Heuvel, Fuzzcraft.com